Asbestos Removal Nottingham & East Midlands Areas
Safe Asbestos removal by licensed professionals
Crystal Environmental Services Ltd offer a complete and comprehensive professional service and solution to all asbestos removal and asbestos management projects.
We at Crystal Environmental Services are fully aware that clients need to be confident that their asbestos removal and asbestos management is in good hands. This confidence is gained by our personal and professional approach, experience, reputation and by the results achieved by our advice and actions.
As in many areas throughout the East-Midlands, property owners can feel overwhelmed when thinking about asbestos removal in Nottingham.

Here at Crystal Environment Services Ltd, we know that asbestos regulations in Nottingham can be hard to understand. We pride ourselves on our safe and efficient methods of asbestos removal in Nottingham, so you can leave the worrying to us.

Whatever your property, asbestos could still be present, as it can be found in a wide variety of buildings such as schools, homes and hospitals.

Asbestos can be dangerous to human health so it is essential that it is removed properly. However, is not accepted at any recycling centres in Nottingham so it is difficult to do yourself. It is also at its most dangerous when damaged or disturbed. With this in mind, asbestos removal Nottingham wide is best left to our highly trained team of professionals to deal with.

With our ideally located base being between Nottingham and Derby, we can easily offer our services to anyone in the area. Make use of our years of experience with a variety of clients and asbestos issues.

For more information about our services in Nottingham, contact 0115 9303 147 to speak to someone at Crystal Environment Services today.
---
Fast, free no obligation quotation -
0115 9303 147
Licensed, Safe, Professional Asbestos removal
Asbestos encapsulation, repair, and remediation
Asbestos Removal Nottingham, Derby, Leicester and throughout the East Midlands.
Asbestos cement garages, asbestos roofing, asbestos soffits, asbestos gutters, asbestos downpipes, asbestos pipe insulation, asbestos insulation board, artex, sprayed asbestos coatings, asbestos floor tiles all safely removed by experts.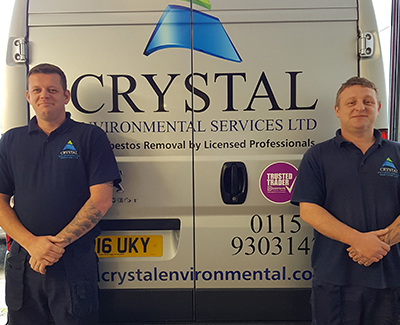 Having found asbestos in the house we didn't know what to do. Jason came out promptly. He explained our options putting our minds at rest. He emailed me a price which was less than we thought and did the work within a couple of days. The workmen were exceptional, helpful, supportive and left everywhere clean and tidy. On examination they also found asbestos in the garage roof, they called Jason who came straight out, this was also sorted within days. I would have no hesitation in recommending them and would definitely use the firm again if the need arose. Thank you to Jason and his workmen.
They were very professional in how they conducted the work of removing the insulating asbestos boards and flue for the boiler. Explained how the work will be done, how much it would cost and duration of the job. I would highly recommend them.
Darren and his co worker was a pleasure to deal with! It was a little awkward job I gave him, changing an asbestos backboard meter, which involved multiple companies but Darren advised me the best way to go about it. I spent more time on the phone to him than he spent on the job, and that man doesn't get paid for advice so thank you Darren.
Darren responded to our query quickly and came out promptly to give a no-obligation free quote. Price seemed fair and Crystal did a good clean job. We were also sent the waste consignment note. It was asbestos removal - not a large amount but still good to get piece of mind that all was being done correctly.
Very efficient communication from quote to service delivery, and job carried out professionally and without fuss.
The company responded promptly, came to check to be sure exactly what asbestos type the sheets were, provided a quote and good advice if seeking other quotes. Work was carried out quickly but with safety paramount and site was left clean and tidy. The price was not cheap but the reasons were explained fully and overall was very good value for money to protect our health and the environment. Highly recommended.
Crystal Environmental have completed two jobs for me and on both occasions they have been professional, prompt and a real pleasure to deal with
I found Crystal Environmental Services Ltd to be very professional in their approach and they were extremely thorough All the necessary documents were supplied without prompting and I would have no hesitation in utilising their services again
Good job done well, I'd recommend your company without hesitation.